Mecalac launches its innovative 3.5MDX cabbed site dumper
Mecalac has announced the launch of its all-new 3.5MDX cabbed site dumper, the latest addition to its state-of-the-art portfolio. Designed from the ground up to set the standards in performance, safety and comfort, the innovative model offers all the benefits of the Mecalac MDX range in a 3.5 tonne capacity.
Perfectly blending stylish design with 'rental tough' build quality, the new 3.5MDX is powered by a Stage V-compliant Kubota D1803 1.8L turbocharged 3-cylinder diesel engine, delivering 50hp (37kW) at 2700rpm and a peak torque of 150.5Nm at 1600rpm. Thanks to the integration of a diesel particulate filter (DPF) and diesel oxidation catalyst (DOC), emissions are minimised, while fuel economy is optimised.
Available with either swivel tip skip with 180° rotation (to enable precise lateral unloading without manoeuvres) or front tip skip, the new model is designed with an articulated and oscillating chassis to ensure excellent manoeuvrability and off-road capability.
The 3.5MDX uses high and low range gearing for both forward and reverse, as well as permanent hydrostatic four-wheel drive. This means that operators have torque on demand to effortlessly move loads in even the most challenging site conditions. This, combined with a maximum travel speed of 12.4mph (20kph) makes the unit quick and easy to move around site.
An operating weight of 2990 kg, length of 3.8 m, width of 1.9 m and height of 2.8 m make the 3.5MDX highly compact and manoeuvrable, providing an effective solution to carry high payloads in confined spaces and for a large variety of applications.
The 3.5MDX prioritises the highest levels of operator comfort by adopting Mecalac's proven MDX cab with optional air-conditioning to provide outstanding operator well-being in all weather conditions. Like all MDX models, the unique isolated cabin layout minimises vibration and noise, while ergonomic controls and an adjustable seat provide a relaxed environment when working for extended periods.
Alongside featuring front and rear LED work lights as standard, the fully enclosed cab provides class-leading operator visibility thanks to large glazed areas and a curved windscreen, ensuring all-around natural visibility.
With safety prioritised throughout the design process, the new Mecalac cabbed dumper incorporates MDX design characteristics, resulting in easier and safer access to the machine thanks to high visibility and easy reach steps and handrails, as well as an excellent engine access enabling all servicing operations from ground level.
In order to ensure a higher level of operator protection in any situation, the certified ROPS/FOPS MDX cab has been additionally designed and tested by Mecalac to withstand impacts while loading the dumper skip. The Mecalac MDX cab impact test video is available by clicking on the following link: https://bit.ly/3orqECW.
For additional safety, the 3.5MDX features Shield – Mecalac's package of safety-critical operator features – as standard. Key technologies include start & drive interlock, handbrake warning, digital speedometer, fuel loss warning sensor, automatic idle shut-off, park brake test and Stop-Start Control™. All Shield safety features are adjustable to suit different applications where these are not required.
The new 3.5MDX is the latest addition to Mecalac's pioneering MDX range, which also includes the six-tonne 6MDX and nine-tonne 9MDX. The range offers construction professionals with a suite of high-performance options to suit their specific requirements.
For more information about Mecalac's industry-leading MDX range, or to find your nearest dealer, visit the dumpers range.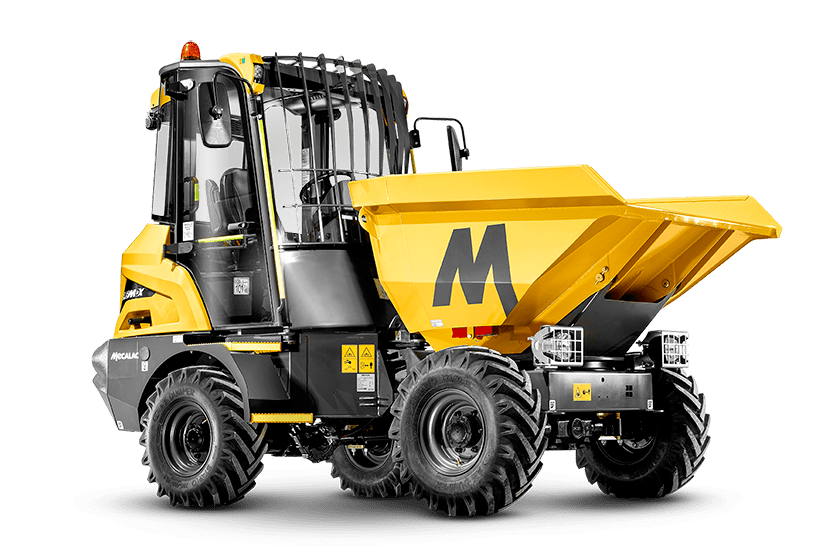 Share this article